Jaguar F Type R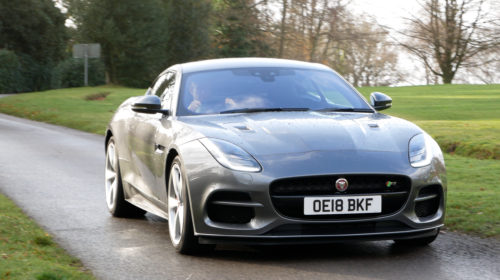 ---
Today we collect the Jag F Type R, 5 litre V8 Coupe. If you look back through the archives you will find we experienced the 3.0 V6 in Convertible form a year ago which unusually was the F Type's launch car. In Coupe guise and put simply this is one hellova good looking vehicle and in V8 form has the power to match it's credentials as a top flight sports car, knocking on the Supercar establishment in performance terms at least. 0-60mph 3.9secs with a 186 top speed.
The V8 Jaguar F-Type R Coupe was launched around a year later than the convertible and was at the time the most powerful variant. Since then the F-Type SVR has been introduced with 25 additional horses but is close to 20 grand more expensive, (the SVR weighs in at £110,880). Quite a hike for not a huge increase in power!
A new Jaguar F-Type competes with a large number of accomplished machines such as, top level Porsche Caymans, the 911 and Aston Martin Martin's new V8 Vantage but hard core machines such a the Nissan GTR also fall into this price category so the competition is stiff. The F-Type also comes with an extensive list of powertrains and drivetrain options, with rear-wheel drive and all-wheel drive, 4, 6 and 8 Cylinder models all being available..
The F Type R is powered by a 5.0-litre V8 producing 542bhp and over 500lb ft of torque. This powers the Jag from 0-60mph in 3.9 seconds before going on to a top speed of 186mph – figures which pit it against serious rivals. However don't buy this car to be economical with the supercharger in regular use you will be luck to achieve 20mpg.
The R has been beefed up to cope with the extra performance. The suspension spring rates front and rear have been strengthened , while the adaptive damping has been re-calibrated to cope with that extra urge. Additionally, in a first for Jag, the F Type R has torque vectoring plus, using the brakes to control each wheel separately as required and working with the second-generation electronic active differential, to ensure the Jag can optimise the power on to the tarmac.
Overall the car conveys a sense of balance and connection to the road, with hydraulic steering that weighs up beautifully and provides plenty of feel. Body control is tightly controlled at up-to nine tenths where when changing direction multiple times, and on a country road, the car's weight starts to betray it. Though good front-end grip has the R turning in precisely, allowing the car to be expertly placed on the way in to a corner. Brakes are exceptional in road use exhibiting no fade after repeated use.
First impression then are excellent. The supercharged nature of the V8 ensures that, unlike a turbocharged unit, power is available instantly and all the time. This is a car that is tuned for fast road driving and has the power to mix with the growing ranks of top flight sports cars. We love it but there is more to come in our driving video up next!
Key specs Price: £92,660 Engine: 5.0-litre V8 supercharged Power/torque: 542bhp/680Nm Transmission: Eight-speed automatic, rear-wheel drive 0-60/top speed: 3.9 secs/186mph Economy/CO2: 25.5mpg/259g/km Equipment: Electronic active differential, adaptive damping, quad tailpipes, 20-inch alloy wheels, DAB radio, navigation, active sports exhaust, rear spoiler, premium leather
Stats: Auto Express
---
Read more on...
Jaguar
Jaguar F Type R