Alfa Romeo Giulia Quadrifoglio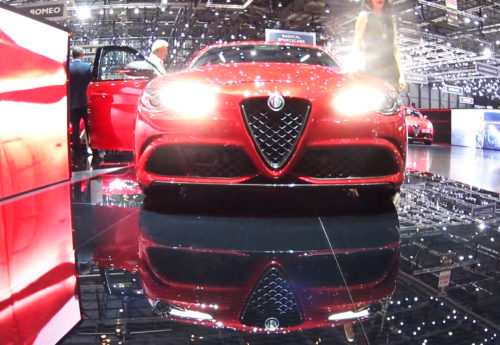 ---
The Alfa Romeo Giulia Quadrifoglio is the first Supersalon from Alfa Romeo. For once no excuses are necessary, this car is rear wheel drive and seriously good. Chris Harris from TopGear tested the Alfa against the M3 a few weeks ago and the Quadrifoglio won. A real achievement for Alfa. Alfa fans have been waiting a while for a sports saloon. Where it really matters, on handling appeal, the Giulia Quadrifoglio has those qualities.
With an aluminium head and block, a 90deg bank angle, oversquare cylinders, a cross-plane crankshaft, direct fuel injection and cylinder shutdown technology, it produces maximum outputs of 503bhp and 443lb ft and spins to 7000rpm.
The Alfa Romeo Stelvio is Alfa's first SUV. And the Stelvio is making its European Auto Show debut at Geneva in full 503bhp Quadrifoglio specification. Transmitting that power to the road is a standard eight-speed ZF automatic transmission, like that in the Giulia, though the Stelvio also comes with standard Q4 all-wheel drive with torque vectoring. In normal conditions the Stelvio sends 100 per cent of its power to the rear wheels, with two clutches in the rear differential to meter out power as required to either wheel. Up to 50 per cent of the engine's torque can be sent to the front wheels when necessary. Really interesting to see how successful this car will be for Alfa.
(Source Evo Mag and Top Gear).
---
Read more on...
Alfa Romeo
Alfa Romeo
Alfa Romeo Giulia Quadrifoglio