Ford GT Heritage Edition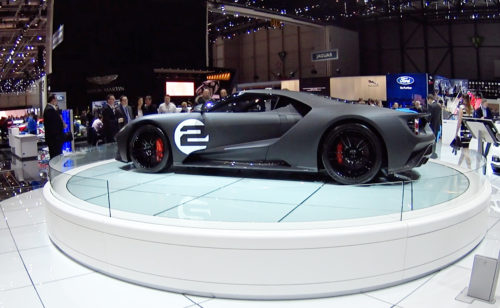 ---
At the Geneva Show 2017 taking centre stage on the Ford stand is the '66 Heritage Edition Ford GT, it is even more exclusive than the new Ford GT announced last year. Guess how many they are going to make!?!
The car in our video was built in honour of the classic GT40 Mark II driven by Bruce McLaren and Chris Amon during the 1966 Le Mans race over 50 years ago. Visually, what separates it from its regular-production sibling is the Shadow Black exterior. This GT comes in both gloss or matt finishes and it is the matt finish that features in this video.
Other features include the silver stripes, exposed carbon fibre package, the Frozen White Number 2 bonnet and door graphics, and the one-piece forged aluminium wheels, measuring 20″ in size.
As for the cabin, it's got even more number 2 graphics (on the doors), and masses of exposed matt carbon. Ebony leather-wrapped carbon fibre seats, pillars and headliner, unique blue webbing seat belts and gold appliqués on the instrument panel.
The full spec sheet for the GT is finally out, and the newest American supercar will have a top speed of 216 mph thanks to 647 hp at 6,250 rpm and 550 lb-ft of torque at 5,900 rpm. All from a 3.8litre twin Turbocharged engine. This is a seriously fast machine. The company also noted the GT laid down a 2 minute, 9.8 second time at Calabogie Motorsports Park in Canada. A McLaren 675LT took 2 minutes,10.8 secs, and a Ferrari Special went round in 2:12.9.
Also on show is the 1966 race GT40 in totally restored condition, what a machine!
---
Read more on...
Ford
Ford
Ford GT