Ford GT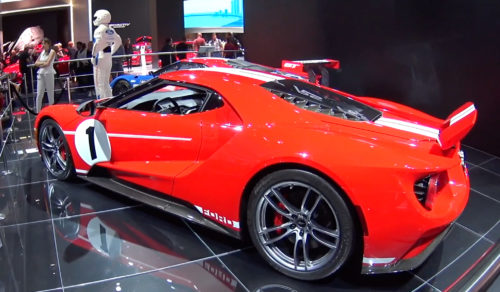 ---
Production on the the Ford GT is now in full swing and this car is not new to the motoring world but it has to have been one of the most exciting road cars to be driven in 2017. Unashamedly a racing car it is uncompromising from it's overall footprint, almost the size of an Audi A6, to the number of/ lack of creature comforts on offer inside the cabin. Even the ride height dumps the car unceremoniously onto its lowest setting in tenths of a second. Compare that to the McLaren 720S which can take over 20seconds.
One downside is the price; how Ford can justify twice the price of a McLaren 720S, a car which on the road would show a clean pair of heels to the GT, is difficult to say. This said we should celebrate the fact that Ford have had the confidence to build this car and due to a combination of it's relative rarity and the huge demand it will undoubtedly hold it's value.
It's built by Multimatic, the Canadian company that builds the Ford GT FIA GTE racer which won it's class at Le Mans last year. The road-going version of the GT is very much a converted version of a purpose-built racing machine, most supercars that find their way onto a starting grid do so by producing a road car first and then converting it for track use.
You can tell straight away this isn't the product from a Supercar company. According to 'Autocar'; The GT isn't anywhere nearly as complete as say the Lamborghini Aventador SV or a McLaren 720S, and does not feel as fast as the 720S.
Nevertheless this American supercar produces 647 bhp at 6,250 rpm and 553lb ft of torque at 5,900 rpm. All from a 3.5 litre twin turbocharged engine giving a top speed of 216 mph with 0-62mph coming up in under 3 seconds. All things considered this is a v fast machine.
Gearbox is a 7-speed dual-clutch automatic and the Kerb weight is 1385kg (dry); Rivals are the Lamborghini Aventador S and the McLaren 720S.
---
Read more on...
Ford
Ford
Ford GT
GT