Hennessey Venom F5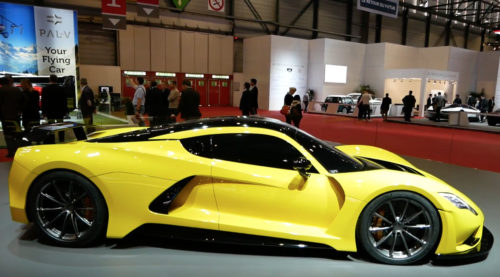 ---
The Henessey Venom F5 Hypercar has a bespoke 8.0-litre twin-turbo V8" developed in house and will have no less than 1,600bhp. Overall weight is said to be less that 1360kg. Our chat with John Hennessey's son Ryland and his daughter Emma informed us.
Ryland also told us they are going to have another crack at the outright top-speed record with the F5. This will produce a battle royal between Hennessey, Koenigsegg, and Bugatti who all have cars capable of competing for the record.
But John is keen to stress the car won't be just a "straight line missile. "We're looking to build a car that is comfortable on the road, and delivers unbelievable straight-line performance, a proper road car that can be driven at crazy speeds in a straight line but still go around turns and stop". However "If we wanted to take it to the Nordschliefe and put a racing driver in it – and we plan to test at the Nurburgring – I'd like the F5 to have the credentials of a sub-seven-minute lap time".
Hennessey will build 24 Venom F5s over a twenty four month period and this writer wishes he could afford one, I just love the attitude in taking on Bugatti at their own game and at ss8000cars we wish them every success. Our tip is that the F5 will be the first production car to break the 300mph barrier if Hennessey can source the correct tyres. In the end it is the car's low weight that may be the crucial factor in achieving this.
We also think this car is a looker. In the final analysis it is difficult when designing this type of car to produce something distinctive when the car needs to travel safely at 300mph because the requirements to achieve this are the same for each car and to an extent dictate how the car must look. Hennessey have done a sterling job here, the car looks like it could do 300mph whilst standing still and would never be confused with a Bugatti or Koenigsegg.
The final specification of the F5 will be confirmed at the Pebble Beach Concourse Show in August but it is likely to cost in the region of 1.6 million US Dollars. Even this does not sound extortionate for what you are likely to get.
---
Read more on...
Hennessey
Hennessey
Hennessey Venom
Hennessey Venom F5