Jaguar I-Pace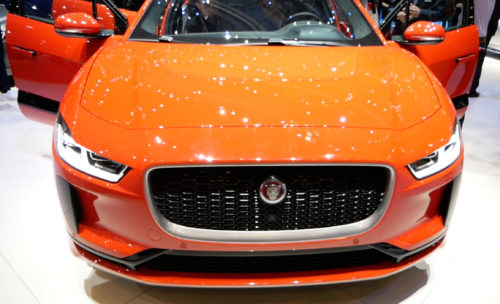 ---
Jaguar has launched it's all-new electric car. The I-Pace. It certainly seems to be the first manufacture after Tesla to launch a fully electric car that is available to purchase now with deliveries starting in May.
The aluminium bodied I-Pace produces 395bhp and is the first of a number of models that Jaguar intend to launch in this marketplace. The next model being an all new electric/ hybrid XJ Luxury Saloon due for release in 2020. The performance figures quoted are 0-60 in 4.5seconds, which seems plenty fast enough, combined with a quoted range of 400km or 250 miles on one electric charge. In the real world expect to achieve less than this though.
To charge the car to 80% charge at a motorway services should take around an hour and a half with a 30 minute charge giving you around 80 miles. Now I quite accept that 250 miles will easily cover 80% of peoples journeys and is a far cry from our Panamera, with it's 31 electric range, but one and a half hours at the services every 180 miles is still not enough for this car to be your only means of transport. At home using a 7kW charging point will allow you to get 80% charge in around 10 hours. Probably OK for most people if you have access to an electric point!
The I-Pace has 2 electric motors one on each axle to provide full four wheel drive. Batteries are housed between the axles helping the car to achieve a near 50/50 weight distribution. Suspension is double wishbones at the front and an integral link at the rear. Air suspension will be offered as an option, and given this car is comparatively heavy may well be a good idea, unladen weight is 2206kgs.
The space inside is good, even class leading but again the packaging of the electric motors does bring benefits in terms of additional room inside the car due to not needing a transmission tunnel for example, whilst retaining a small, relatively, overall footprint, Macan size!. In fact they say the I-Pace has more rear legroom than a Porsche Cayenne but having sat in the back of the one at Geneva, it certainly didn't feel that way, nearer to the Macan I should say. Inside is nice, far more car like than the Tesla Model X, and quality appeared to be excellent.
Aerodynamic efficiency was a focus during the design stages and Jaguar have achieved 0.29 drag coefficient which is excellent for what is essentially an SUV. Regenerative braking is available in all driving modes. The I-Pace will be built at the Magna plant in Austria on the same production line as the E-Pace and the car costs £59,000 in base form up-to £70,000 for the top HSE model.
Only time will tell how successful this car is going to be for Jaguar, the design ethos, especially with the short bonnet, is new for Jag and it is the customers who ultimately decide, but Jaguar have now dipped their whole foot into the all electric market an I for one suspect it will turn out to be a shrewd move.
---
Read more on...
I-Pace
Jaguar
Jaguar
Jaguar I-Pace