Koenigsegg Jesko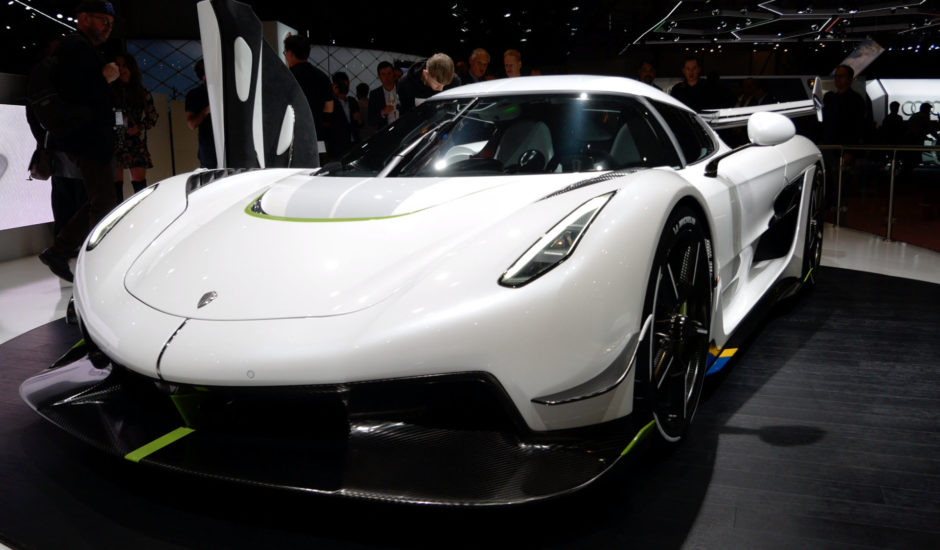 ---
Geneva 2019 and we are visiting the Koenigsegg Stand. And hosted by Koenigsegg's Australian Distributor. So thanks for watching, enjoy and remember to check out our New Website at ss8000cars.org
According to the boss, Christian von Koenigsegg, the Jesko is capable of over 300mph in simulations (the current production record-holder, the Agera RS, hit an average of 277mph in 2017), albeit in a lower downforce set-up than you see here.
The engine is a modified version of the Agera's 5.0-litre twin-turbo V8, now with a flat-plane crank shaft which allows it to rev to 8,500rpm. Active rubber engine mounts from the Regera mean the extra vibrations from the flat crank are absorbed, while the two equally large turbos are supplemented by a 20-litre carbon tank (topped up by a small electric compressor) that fires jets of air into the turbos at 20 bar, to help them spool up and reduce lag.
The result is 1,262bhp running on 95 octane unleaded, and 1,578bhp and 1106lb ft of torque if you fill it with E85 biofuel. You see, going green has its advantages.
You need a mighty gearbox to cope with all this, and you can't buy Bugatti's DSG off the shelf. So Koenigsegg just shrugged and built its own, from scratch, except it's even smarter, smaller and, at 90kg, a lot lighter than the Chiron's. Dubbed the Light Speed Gearbox, it's a 9-speed multi-clutch transmission. A bit like a bike that has three big cogs at the front and seven at the back to make 21 possible ratios, here there's two sets of three, with six clutches that can select any combination at any time. As a result you can jump from one gear to any other without going through the ratios between.
Pull the two-stage paddle half way and you'll swap down one gear (shifts take 20 to 30 millseconds), pull it all the way and it'll jump to the gear that offers the best acceleration at that time.
Unlike the Agera, which only had one at the back, the Jesko also gets a Triplex damper at the front (a socking great horizontal damper to prevent the car squatting under acceleration at the rear, and to keep it level under extreme downforce at the front) to compliment the more traditional Ohlins dampers. The carbon tub is now 40mm longer and 22mm higher than the Agera to create a bit more space inside, rear-wheel steering has been added and it wears Koenisegg's lightest ever carbon fibre wheels – 21-inch and 7.7kg at the rear, 20-inch and 5.9kg at the front – fitted with Michelin Pilot Sport Cup 2s as standard and optional Cup 2 Rs. Each wheel is hand-made, in-house, and takes 40 hours to finish at $65,000 a set.
Only 125 Jeskos will be built, at a rate of around 40 to 50 a year, so compared to the 25 Agera RS and 80 Regeras. But with prices starting at just under $3m plus local taxes, it's up there with the McLaren Speedtail and Aston Valkyrie.
---
Read more on...
Jesko
Koenigsegg
Koenigsegg Jesko