Koenigsegg Regera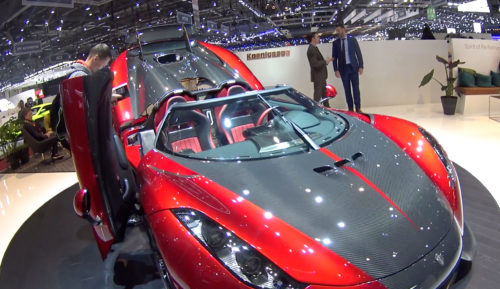 ---
The Regera is Swedish for "to Reign" – a suitable name for a machine that offers an unforeseen combination of power, responsiveness and luxury. In spite of all its advanced technology and creature comforts, the Regera is comparatively light and can still perform competitively around a race circuit, 3.2 seconds between 150 to 250 km/h and under 20 seconds from 0 to 400 km/h. The Regera weighs in at 1500kg, a remarkable achievement.
The Regera is handcrafted in an edition of just 80 vehicles at Koenigsegg's production facility Ängelholm, Sweden. The heart and soul of every Koenigsegg is its Internal Combustion Engine – the ICE. The ICE of the Regera follows the path of its siblings, the proven and extremely reliable Koenigsegg dry-sump twin turbo, DOHC, 5.0 litre V8.
The Regera V8 differs slightly from it's predecessor Agera engine. As the powertrain already produces a combined 1500hp and with electric propulsion providing instant torque from the Direct Drive system. Koenegsegg also installed even smaller, faster-spooling turbos on the Regera, further enhancing the car's drivability and response.
The new Koenigsegg Direct Drive transmission (KDD) was invented by Christian von Koenigsegg and developed for the Regera by the Koenigsegg Advanced Engineering Team.
The patent-pending KDD replaces the combustion engine's traditional transmission – the gearbox is removed from the car. In its place, the KDD provides direct drive to the rear axle from the combustion engine without the need of multitude gears or a variable transmissions, all of which have inherently high energy losses. The Regera has three YASA developed electric motors, which also supplement the energy from the combustion engine.
---
Read more on...
Koenigsegg
Koenigsegg
Koenigsegg Regera