Lamborghini Huracan EVO Spider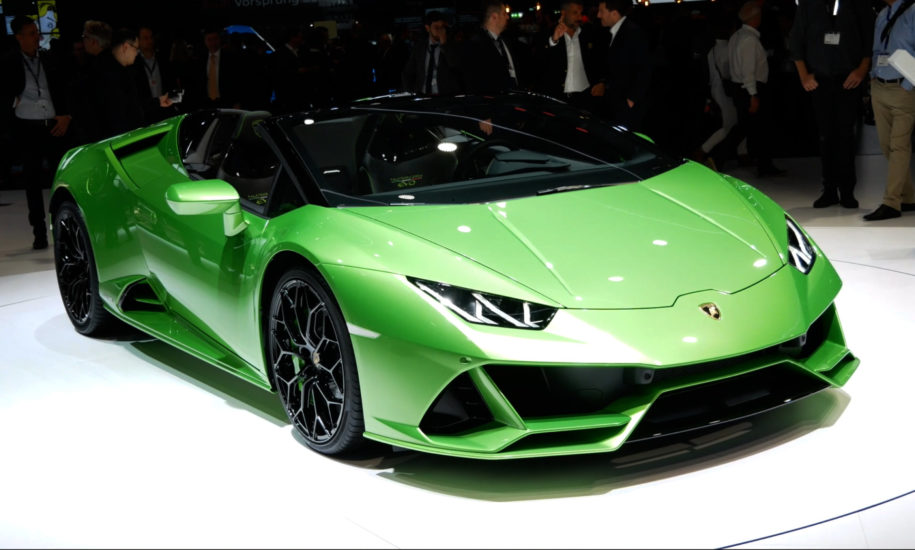 ---
Geneva 2019 and we visit the Lamborghini Stand to see possibly my favourite car of the show The Huracan Evo. This is less an update and more a total overhaul turning the Huracan into the car we all hoped it would be.
The launch of the Evo Spider comes hot on the heels of the Coupe arriving last year and features the same 5.2-litre naturally-aspirated V10, kicking out 631bhp, same as the Huracan Performante, and posting 0-62mph time in 3.1 secs only 0.2 sec behind that of the Coup. The rear window can be retracted electrically whether the roof is up or down further enhancing the engine note in the cabin.
The new chassis improvements, rear-wheel steering and four-wheel torque vectoring, carry over from the Coupe. The Evo has than five times the downforce and aero efficiency of the previous Huracán,
The Huracán Evo has the same 631bhp engine, albeit with changed engine management settings, and new chassis technologies, rear-wheel steering and torque vectoring combined with dynamic steering, magnetic dampers and stability control are all controlled by a central ECU unit called LDVI standing for Lamborghini Dynamica Veicolo Integrata. This works in harmony in order to achieve the best possible combination. For example the dampers, traction control and torque vectoring will operate together to deliver the best traction while considering the steering angle and throttle position.
There have been changes within the cabin, gone are the three separate dials at the top of the centre console, however integrated in their place is a 8.4in touchscreen display. The airflow, underneath and over the car, is greatly improved helping to reduce drag, while downforce has increased exponentially thanks to the new front splitter and a more prominent rear spoiler.
One disadvantage to this package is there isn't a mode to allow the most aggressive drive mode in conjunction with a softer suspension setting. So Corsa mode can only realistically be used on a smooth track.
The Lamborghini's Huracán Evo Spyder will cost 218K circa 12K more that the Coupe.
---
Read more on...
Evo
Huracan
Lamborghini
Spider