Lamborghini Huracan Performante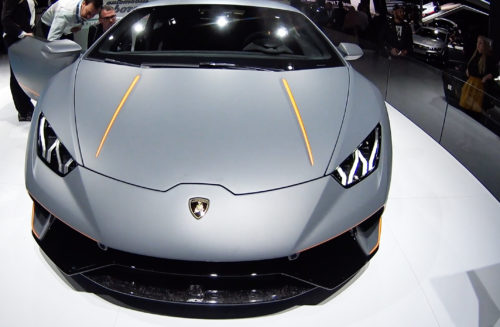 ---
The Performante was launched some six months ago at the Geneva show. For me it is the perfect Lamborghini having always thought that the Aventador and it's predecessors were all beautiful but too big to be driven fast down challenging roads.
The Performante has performance figures of 2.9 to 62mph, a top speed of 202mph and a dry weight of 1382kgs all of which give rise to a power to weight ratio of 464bhp per tonne. This comes from a naturally aspirated 5.2litre V10 producing 631bhp and 443lb ft of torque and that screams all the way through its rev range. Bronze manifold covers signal this as the fastest Huracan yet.
However it is the ultra light weight forged carbonfibre that is used to great effect on the active aero elements of the car. Remember this is the car that set a new Nurburgring record in February of 6mins 52.01 seconds beating the previous record holder the 918 Spyder by a whole 5 seconds. We should NOT underestimate this achievement!!!!
It is certainly the active aero that has allowed the car to achieve these times. The Performante's rear wing, which is fixed and made from a single piece of forged carbonfibre, includes air ducts and flaps that close for maximum downforce and open to to allow maximum airflow. The rear wing also has an air channel which can operate on the right or the left to allow air vectoring for high speed cornering. This is then combined with active aero at the front of the car, all to reduce frontal air pressure and to send it through a channel under the car to reduce drag to optimise acceleration and top speed, as per Lamborghini's Super Trofeo Race Cars.
All this no doubt contributed to the ring record but for us this is a hardcore Huracan that is the right size with the right power and the right weight. All combining to suggest it will be a true drivers car on both the road and the racetrack. Perfect and the icing on the cake for us is that it is not a limited edition machine and costs a fairly competitive £213,000.
---
Read more on...
Lamborghini
Lamborghini
Lamborghini Huracan Performante