Pininfarina Battista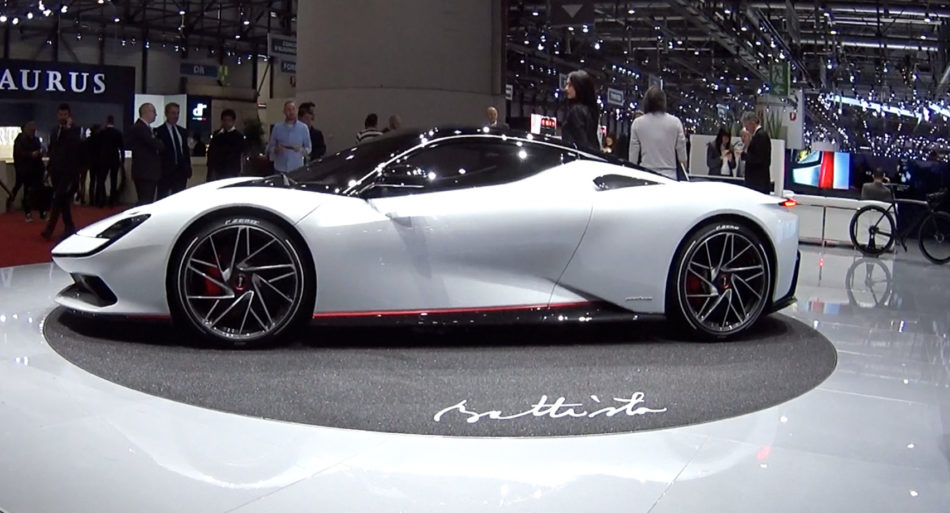 ---
Pininfarina was founded in 1928, this is Italy's most famous automotive design house, creator of gorgeous cars from Alfa Romeo, Ferrari, Fiat, and Lancia to name but a few.
Pininfarina claimed at the launch that the Battista 'is the most powerful car to come out of Italy'. Given Italy is the home to Ferrari, Lamborghini and Pagani this is some claim indeed but here it is probably justified if when we get to see the Battista on the road it does indeed live up-to the claims made now. The car uses Electric power to propel it.
Using a 120 kWh lithium ion battery pack the Pininfarina Battista produces 1900bhp and 1696lb ft of torque. The unique properties of e-motion are enough to give this car Formula One type acceleration. 0 to 62mph is claimed to be 1.9seconds, 190mph should arrive in 12seconds. The plan is to build a total of 150 Battistas at a customer cost of 2m Euros plus local taxes.
The Battista has a carbon fibre monocoque, with batteries located behind the driver and passenger. The electrical architecture is being co-developed with Rimac, (10 per cent owned by Porsche now), and a company that has worked closely with Koenigsegg in the development of their Hyper-Cars to utilise a single gear gearbox. (For details see below). Batteries have a weight penalty but Pininfarina insist that the layout delivers the optimum weight distribution.
Four motors feed power and torque to each wheel. Carbon ceramic discs and six-piston calipers provide the stopping power, 390mm diameter at the front, 380mm at the rear. The car's range is targetted to be around 300 miles, 80%, it is said, can be replenished in 40 minutes on a rapid charger but this will, as in all electric cars, depend on judicious use of the accelerator. Apply full Power regularly and this will most likely deplete the range in excess of 50%, maybe even by up-to two thirds.
The Battista is a truly beautiful Supercar taking it's cue from Supercars from the past rather than foraging into the future to obtain design ideas. The Batmobile was definitely not a design ethos on Pininfarina's list. More the looks of Supercars from the1980's was researched.
Automobili Pininfarina intend to develop the car with partners, rather than by covering the costs of R&D alone. In this respect, Apple's 'asset-light' structure is a more apposite example than, say, Bugatti or Porsche (both of whom benefit from VW Group synergies).
Note: Koenigsegg's KDD system, invented by Christian von Koenigsegg, uses power-dense electric motors and an innovative coupling system to replace the vehicle's gearbox. This setup takes advantage of the characteristics of electric motors – high power density, instantaneous throttle response, full torque available from 0 RPM and a wide power-band. Additionally, this configuration enables Torque Vectoring, regenerative braking (KERS) and 50 km of emission-free full electric drive.
---
Read more on...
Battista
Pininfarina
Pininfarina Battista