Porsche Carrera 911 T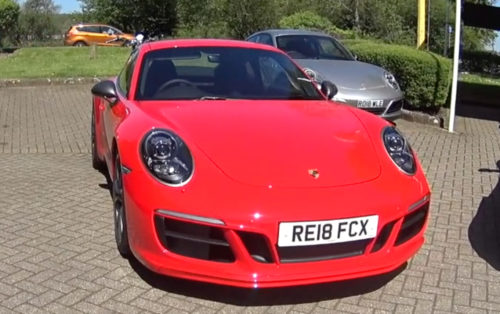 ---
Hey Guys, today we do an impromptu video on the Porsche 911 Carrera T. A car that I have been wanting to cover ever since I heard that Porsche were producing a more focussed version of their base 991/2 Carrera. I have always liked the concept of a lighter more focussed 911 though in Touring form is not really that much lighter, 5kg, than the standard Carrera so a better way of viewing the car is perhaps as a more driver focussed machine and there is a move back to drivers cars at Porsche right now with the 911R, all manual, and the recent GT3 Touring, also all manual.
In the T you can specify either PDK or manual and in this case we have a manual which is what I would recommend because apart from the tactile delights to be had from having three pedals you also get a limited slip-differential on the manual as well as a shorter final-drive ratio which suits the spirit of the car to perfection. 0-62mph in 4.5 seconds and 182 all out. Going to have performance similar to our GT4. Car weighs in at 1425kg.
Excuse me but I mis-quoted the engine size on the video, of course all recent Carrera's have 2981cc turbo flat-six engines, in this case producing 365bhp and 332 lb ft of torque.
Standard on the Touring is lowered suspension, by 20mm, the sports exhaust and sports chrono package. However you also have fitted the thinner glass from the GT2 RS and as much sound insulation as possible taken out so you really can hear all the pops and crackling on the T. There are also no rear seats, stereo, or satnav as standard, these items can be added back at no extra cost. Oh and you get fabric door pulls as per the GT4 and GT3RS.
Overall for me perfect and perhaps surprisingly the driving experience is much closer to the GT3 on the road than you might expect for substantially less cash, 85K plays 112K. Thanks you Porsche for giving us drivers cars as well as track cars.