Porsche GT2 RS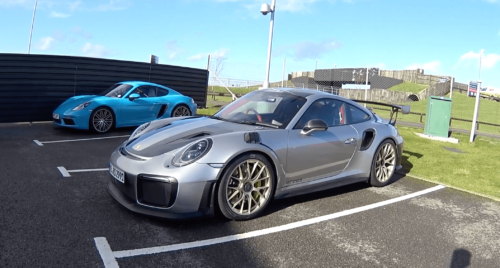 ---
Hey Guys, James and I travel to Silverstone to visit the Porsche Experience Centre to drive the 991-2 GT3. First time for us to drive the car and we are naturally very excited. More of that in a video to come.
Outside the back of Porsche Experience Centre we came across the new GT2RS. Officially the Porsche has set 6min 47.3secs around the Nürburgring, a new production car record, taking 5 seconds off the Lamborghini Huracan Performante's time of 6min 52secs set only a few months back.
The GT2 RS produces 690bhp at 7000rpm from a 3.8-litre turbocharged flat-six, driving through a seven-speed PDK twin-clutch gearbox directly to the rear wheels. I spoke to Andreas Preuninger, boss of Porsche GT division at the GT2RS's launch at Goodwood and he confirmed this figure was conservative. Starting price will be slightly under 208K pounds and the optional Weissach pack will send this considerably higher.
And so to performance, Porsche claim 2.8 seconds to 62mph, 124mph in around 8 and the GT2RS powers on to a top speed of 211mph. These are McLaren 675LT figures, though the LT has a carbon fibre chassis making it somewhat the lighter of the two, (1230kgs). The GT2RS's suspension is pretty much taken straight from a 911 Cup car running to a Nurburgring specification.
As standard the car comes with a magnesium roof, a carbonfibre bonnet, and carbonfibre wings. Specify the optional Weissach package, this costs £21,000, and a further 30kg will be saved from the overall weight. In this case a carbonfibre roof is specced; as are front and rear anti-roll bars, as well as coupling rods – contributes a further saving of 5.3kg. Then you can specify magnesium wheels saving 11.5kg in total. The carbon buckets and titanium roll bar, as in our 675LT, also contribute to that race car feeling. Overall weight comes in at 1470kg, 40kg more than a our GT3 will be but remember the GT3's engine is naturally aspirated. Turbos always add weight!
According to Autocar: on first acquaintance the GT2 RS is extremely loud and Inevitably there is some turbo lag but this engine has a level of responsiveness and linearity that only a few years ago would have been impossible to achieve using if turbo-chargers. Overall the RS's level of control on back roads is terrific. The ferociousness of the performance on the high-speed bowl at Millbrook is completely addictive and the poise and agility on a race track is first rate.
---
Read more on...
GT2 RS
GT2 RS
Porsche