Volvo Polestar 1 Hybrid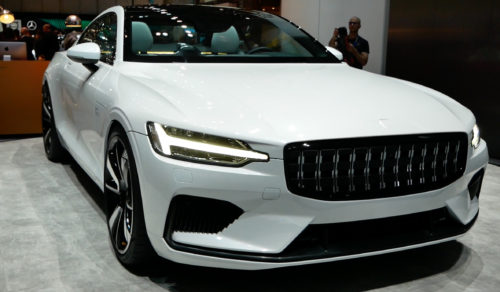 ---
Polestar will build 500 units per annum of their Polestar 1 Hybrid when production starts in mid 2019. Numbers are limited due to the complex construction process required to create its carbonfibre bodywork.
Polestar broke away from Volvo and became a standalone brand last year. The polestar 1 will first be sold to those markets that Polestar adjudge are likely to offer the highest demand. Not the UK clearly because the car will not be built in right hand drive.
The Polestar 1 is a 592bhp four-seat hybrid coupé that will be the first model for its future range of electric performance cars. Volvo's CEO describes Polestar as a new brand but also as strategic for the Volvo Group. 'We want to be leaders in electric cars and Polestar will play an important role in this strategy'. Polestar remains wholly owned by the Volvo Group.
Thomas Ingenlath, Polestar's CEO explains that the Polestar 1 will be the only hybrid in the range. All Polestars, beginning with a Tesla Model 3 competitor, will be fully electric going forward.
The car is to be powered by two electric motors that drive the rear wheels, producing a combined 215bhp. The car will have a range of around 93 miles in pure-electric mode. This system will be combined with a Volvo 2.0-litre four-cylinder petrol engine, which also sends 377bhp to the front wheels.
The styling inspiration for this Polestar was the Volvo Concept Coupé which was first seen in 2012. The front retains Volvo's grille styling but the Polestar carries it's own badging at the front. Although it won't carry a Volvo badge, the car is underpinned by the Swedish firm's technology and Polestar is seen as a technology innovator for Volvo Cars and be in no doubt it is Volvo that call the shots here
Although future Polestar models will be fully electric, Ingenlath said the decision to make this car as a "performance electric hybrid" was to bridge current technology with technology yet to be developed. The new coupé is designed to showcase the brand's "progressive performance" concept, which aims to balance the fast-accelerating attributes of an electric motor with strong handling and steering feel. The weight distribution is 48/52 front to rear.
Point is the Polestar 1 has a range of 93 miles in electric mode which is so much more that the current crop of Hybrids like the Panamera e-Hybrid where the electric range maximum is around 31 miles. Currently the infrastructure is not in place to support a decision to buy a fully electric car unless all your return journeys are all less than 180 miles. However it takes around one and a half hours on a commercial charger to give you circa 80% of charge. To me this makes a bit of a nonsense for long journeys and that assumes you can find a charging point quickly, without queuing and on or close to your route. This Polestar, in our opinion, makes complete sense right now and we believe Polestar will have no absolutely no problem selling their 500 units each year.
---
Read more on...
Polestar
Polestar 1 Hybrid
Volvo
Volvo Polestar 1 Hybrid